Wynwood Indoor & Outdoor Soccer Fields
At Wynwood Soccer we are proud to offer indoor and outdoor soccer field rentals. We have 2 outdoor full synthetic fields and 1 indoor synthetic field. Come and join us every day for indoor soccer playing. We are Located in Wynwood, Florida. Come and visit!  We understand your thirst for playing soccer. That's why we offer we offer reservations on our regular business hours. Resevations made outside of our operating hours must be paid in advance.
Wynwood Indoor / Outdoor Soccer facility is located in the middle of the Art District " Wynwood".  We have ambiance music, nice sitting area, and a convenience store so you can have a cold drink after your game, and you are more than welcome to watch a soccer game at our flat screen.  Wynwood Soccer has also Partnered with several companies to offer soccer academy, bubble soccer and private/corporate events on our location.  We have hand selected the best companies for every service bringing you more than just soccer.
FACILITY:

Soccer Fields: 2 Outdoor Artificial Turf Fields / 1 Indoor Soccer Field 

ACTIVITIES:

Youth Activities
Elite Practices / Lessons
Birthday Parties
Bubble Soccer
Leagues
Soccer Academy
Pick-Up Soccer
Corporate Events
… and More!

CONTACT:

2222 NW 5th Ave. Wynwood, Florida, 33127


(786) 366-7064
info@wynwoodsoccer.com
Visit Website
---
Soccer Academy by Cabeda
Cabeda Soccer Academy was created in 2015, Miami. After years of studying different philosophies such as European and South American, we have come together with a mix of both to train our future generation in United States of America. Proudly, we can say that our players have everything to become top world class football players; however, we need to work on our base as one Academy. The Head Coach of our Academy is Dan Cabeda, and currently has a D license that allows him to train kids until 14 years old; although his main goal at the moment is kids of ages 4 through 12.
At the moment, we are having a FREE REGISTRATION for a short period of time where parents can take advantage of it. Classes are Tuesdays and Thursdays at Wynwood Indoor Soccer.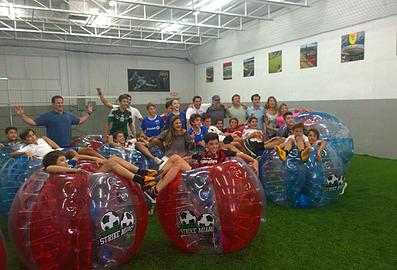 ---
Bubble Soccer
Bubble Football revealed as hilarious new game that puts soccer players inside bouncing, inflatable suits. his evolving sport is excellent for birthdays, corporate events, bar mitzvahs, family reunions and much more! Did we forget to mention, it's a GREAT cardio exercise for an amazing team building activity!
Bubble soccer is available in all of our indoor and outdoor soccer fields, we recomend using our indoor soccer facility for loads of fun. For more information, pricing and availability please call (407) 922-8155 or visit www.bubblestrikemiami.com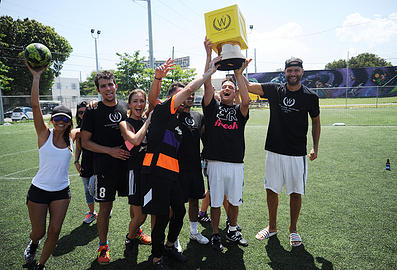 ---
SSM Premier League (Local Tournaments)
Wynwood Soccer has partnered with SSM Premier League to offer amateur soccer teams an oportunity to participate in a league style tournament in our location.
Juicy prices for 1st, 2cnd and 3rd place. For subscription information and more details call Wilson Tabares at (786) 715-7571 or ssmpremier.webs.com
---